RECORD BREAKERS: FASTEST CAR EVER AT SPA!

KENNOL and partner team ByKolles Racing broke a prestigious record last weekend at Spa-Francorchamps: highest top-speed ever on the track for a race car, at precisely 320.6 km/h. Porsche and Toyota were beaten. Even Audi, back in the (close) days, with its now mythical R18 e-tron, wasn't that fast on the Belgian track. Let's take a closer look at this historical performance.

We tried many aero configs and went with one that will be best at Le Mans, knowing it wouldn't be perfect for Spa, but we tested.
Oliver WEBB, pilote
▌
A TECHNICAL ACHIEVEMENT
Spa-Francorchamps, last weekend, during the FIA WEC 2nd race of the 2017 season. Each team is trying to perform, while thinking on the next race, the greatest event of the year, the fame 24h of Le Mans. And even if each team knows that Endurance is all about reliability, the top-speed has become a major asset for each top-team. And at this game, KENNOL and ByKolles Racing did pretty good…
Porsche 919 Hybrid – 315.0 km/h
Toyota TS050 Hybrid – 315.9 km/h
ByKolles Nissan NISMO – 320.6 km/h
Period.
That beats the previous record held by Porsche at 319.5 km/h, 2 years ago.
And it is more than 50 km/h faster than the fastest Ferrari 488 GTE racing the same weekend at Spa…
How such a performance can be possible? The private teams such as KENNOL's sponsored ByKolles are far from having the same budgets and factory facilities as Porsche and Toyota, in the fight for the LMP1 world title. But with good partners, clever solutions, you can nonetheless achieve great things.
The German-based team has switched former engine to the Nissan NISMO VRX 30A Evo 3-litre V6 used by the unsuccessful Nissan LMP1 programme two years ago. ByKolles had to modify the existing CLM P1/01 car to accommodate the new engine. And with a small team and a different lubes partner, they seem to be succeeding, where the manufacturer failed. This is a huge step forward for the team, and didn't go unnoticed by many in the Motorsport World.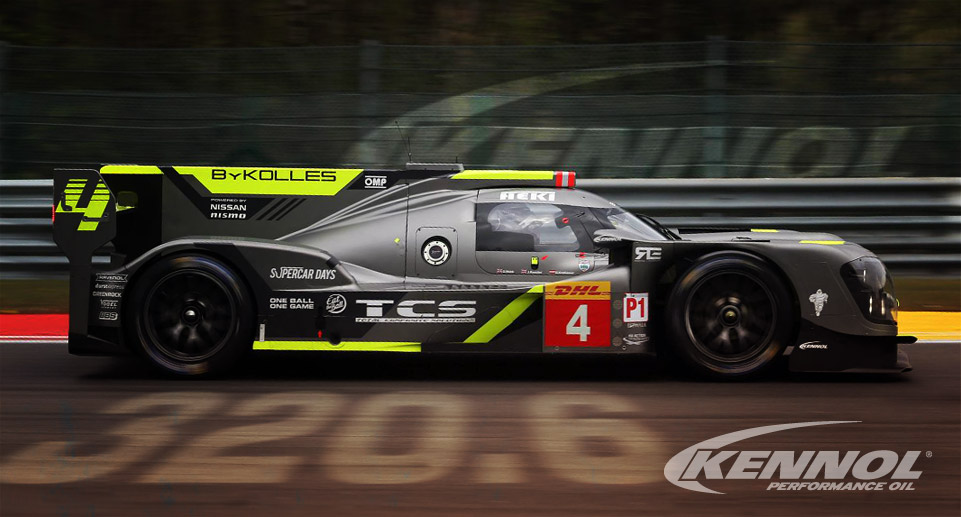 ▌
A MYTHICAL (AND FAST) TRACK
And performing here is not an easy task! The track is known for its many height changes, its length (more than 7km), and its huge contrasts between high speed and very slow pin-turn.
Former record was held by Porsche, more than 1 km/h slower, and the now third fastest car here was Rebellion last season, at 318.4 km/h (the team left the LMP1 category this season to fight in the lower LMP2 category). But the absolute record goes to, obviously, the Formula 1, with an all-time all-categories fastest recorded speed of 345 km/h, just before the same Turn 5.
The team and KENNOL are now looking to Le Mans, next month, and hope that all the test sessions before the great event will allow to find the reliability that matches with these unique performances. And dream, maybe, of something interesting at the famed 24h race…