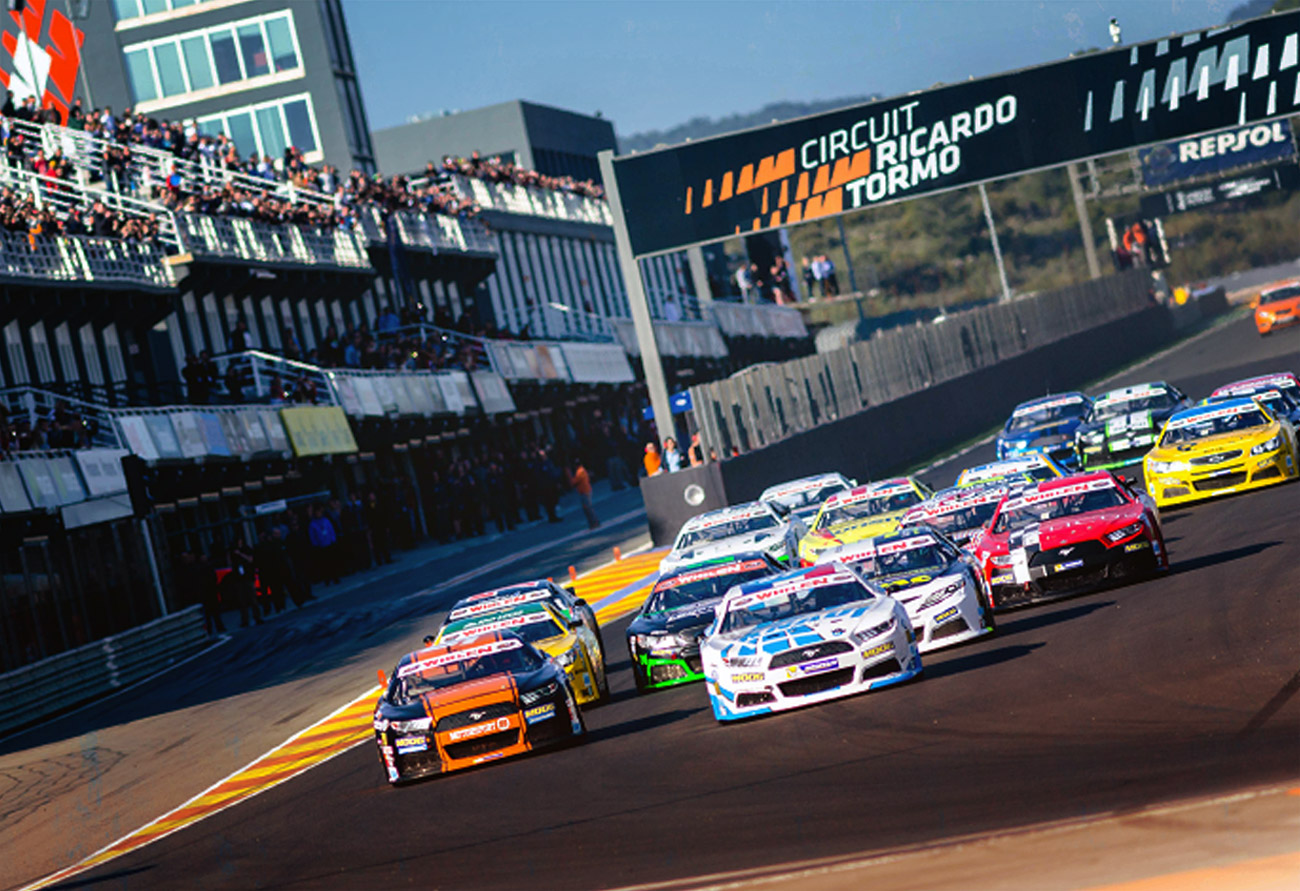 EURO NASCAR VICTORIES IN VALENCIA!

Last weekend, KENNOL grabbed the first Euro NASCAR podiums of the 2017 season, in both Elite 1 and 2 categories. In Valencia NASCAR Fest, under a radiant sun, the 23 KENNOL-serviced cars gave to the huge crowd a show to be remembered, in a very typical American-spirit feast, which saw great champions back on the box, and new talents shine with very interesting results. Get on board, fasten your seatbelts, and discover the crazyness in video!

Based on what we've tested before the season, these new motor and transmission oils are a real asset for the cars.
Christophe BOUCHUT, pilote
▌
THE AMERICAN WAY OF FUN
Borja GARCIA (#1 Alex Caffi Motorsport Ford Mustang) swept the first weekend of the NASCAR Whelen Euro Series in the ELITE 1 Division with another dominant win, in front of his crowd, at the Circuit Ricardo Tormo, but the race definitely wasn't short of action. The Valencia native was untouchable at home, and after passing poleman Frederic GABILLON with a bold move on the outside, in a restart on lap 4, he brought home his second consecutive win to start his title campaign and his third career win.
"It's unbelievable! What a fantastic race weekend! We were fast in practice. We sat on the pole yesterday, and won the season opener. Today we had another great start and another win! It's amazing, especially here at my home track for the first two races of the championship in front of my family, my friends and my fans. It's so unbelievable!" said GARCIA. "I never dreamed that a weekend like this could happen! We are really looking forward to the rest of the season! Alex Caffi Motorsports is a great team and i think we have a lot more wins ahead of us there. I'm hopeful these wins will attract additional sponsorship and companies to partner with us this year.".
The ELITE 2 race condensed all the unique aspects that make the Euro NASCAR the best touring car championship in Europe: lead changes, spectacular contacts, fair door-to-door battles, and frantic action all over the field. It even culminated in an emotional Victory Lane, at the Circuit Ricardo Tormo, as a determined Ulysse DELSAUX (#31 McDonald's RDV Compétition Toyota Camry) won his first career NASCAR race in dominant fashion. In a unique display of sportsmanship, the Frenchman was joined in his celebrations by a vast group of competitors after he climbed out of the car.
In ELITE 1, Frédéric GABILLON (#3 Tepac RDV Competition Toyota Camry) followed closely GARCIA all race long, but never came within striking distance, and had to settle for 2nd for the fourth time in the last five Valencia races, just .552 seconds behind GARCIA. Alon DAY (#54 CAAL Racing Chevrolet SS) was a solid 3rd, while reigning champion Anthony KUMPEN (#24 PK Carsport Chevrolet SS) came from the very back of the field in spectacular fashion to finish fourth, just ahead Frenchman Christophe BOUCHUT, who is now 2nd at the Championship thanks to his saturday podium.
▌
GREAT PERFORMANCES FOR KENNOL
Frédéric GABILLON, driver : "We had a really good race today. After yesterday's finish, we're really happy for second place. The car was very fast but we couldn't get close enough to Borja to pressure him. We're going to work on the car to try and get a bit more speed. We had a solid finish here today and I'm now going to focus on the rest of the season."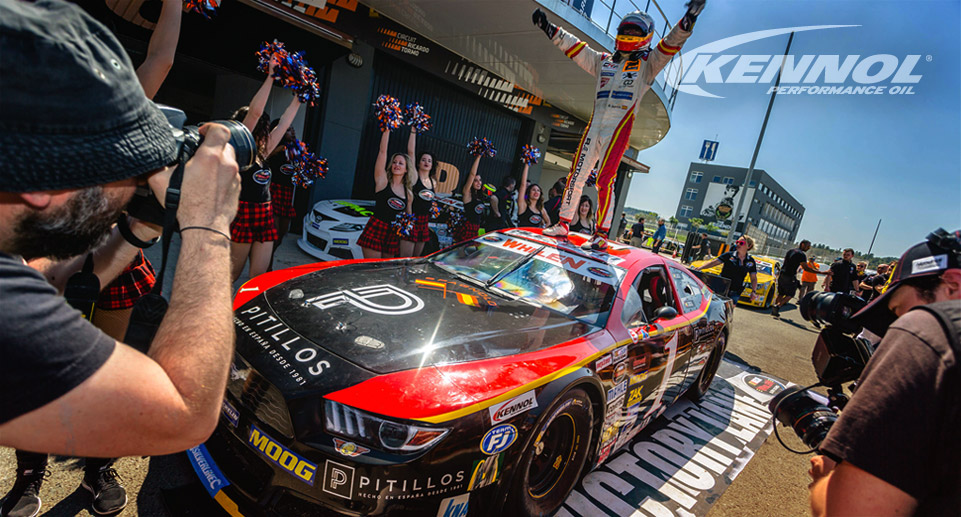 Christophe BOUCHUT (#66 DF1 Racing Team Chevrolet SS) backed Saturday's second place with another top-5 for DF1 Racing in a tight battle for fifth place with Salvador TINEO ARROYO (#56 CAAL Racing Chevrolet SS), won the Junior Trophy in 6th place and Thomas FERRANDO (#37 Knauf Racing Team Ford Mustang).
The new KENNOL lubes range has demonstrated great performances here under the spanish sun, with the ULTIMA 15W50 for the powerful V8 engines of these cars, and the brand new ULTIMA 75W140 for the transmissions, offering the drivers all the reactivity and power range needed to fully perform at the wheel of their Euro NASCAR cars.
The NASCAR Whelen Euro Series will head to Brands Hatch, UK on June 10-11 for the 5th edition of the American Speedfest. Please enjoy now the 2 parts video report of this crazy weekend in Spain: