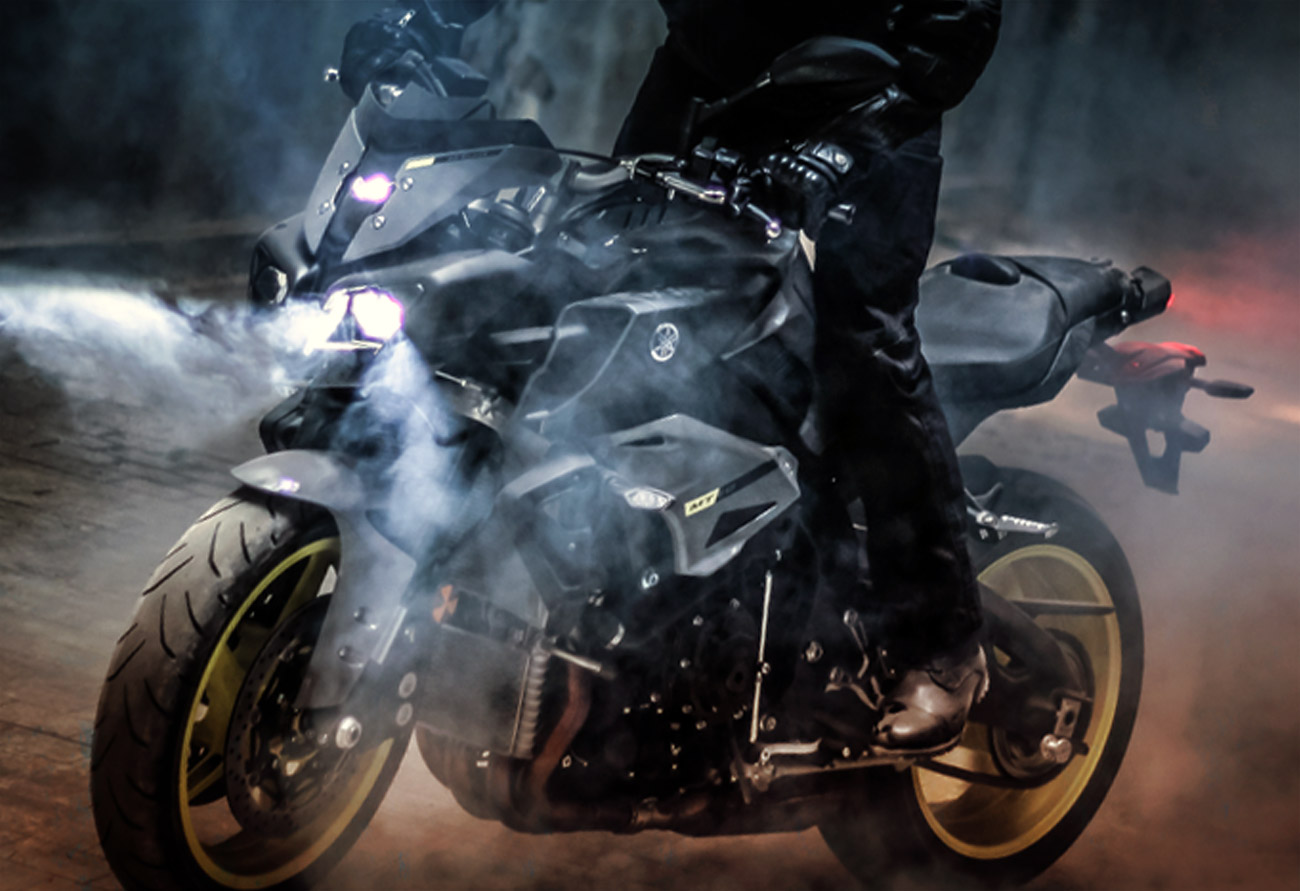 BACKSTAGE OF SWITCH RIDERS VIDEO

In the world of Motorcycling, the Stunt family might seem pretty obscure. As well as the Drift was born in the street, the Stunt did not win acclaim on the track. Though, KENNOL embraces this spectacular sport this season for the very first time, by sponsoring, providing, and working with THE French team of the specialty: SWITCH RIDERS. Dive into this underground world where the only rule is to go beyond the limits of balance and gravity!

A fluid and high quality oil allows a great lubrication power even cold, which is mandatory in the conditions we are shooting this video in.
Jérémy "Tchouf" Mérirès, driver
▌
A NEW RAISED CATEGORY
A few years ago, seeing Stunt in the advertisement of a major brand such as SHARK Helmets would have been unthinkable. Indeed, this is an anarchic discipline, still not officially recognized by the FIM, and pretty young. But things tend to change, slowly, step by step, and some stunters are becoming more and more professional, and enhance their public image in order to popularize and develop their sport, their art.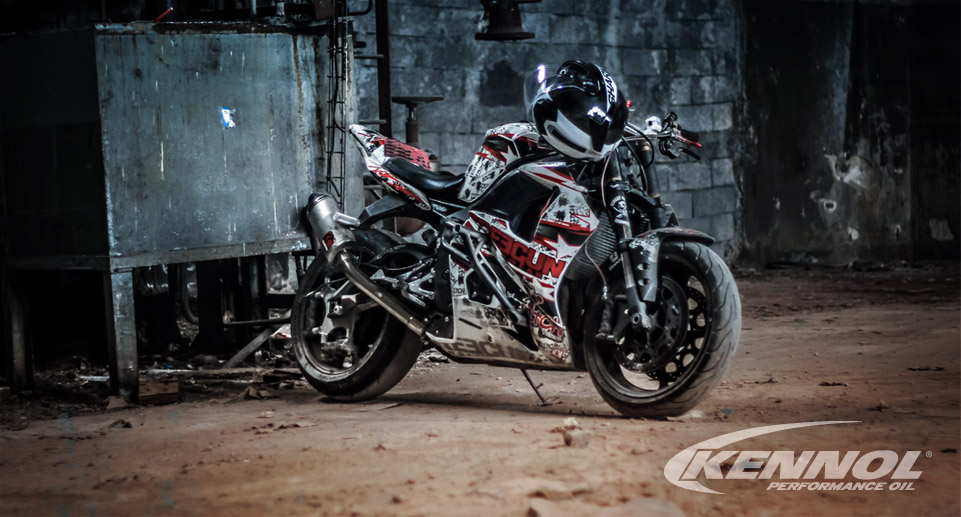 This is the case with Switch Riders: created in 2008, the team consists of four passionate riders, whose priority, in addition to ensuring the show at the 4 corners of the world (India, South America, the Caribbean, Mauritius…) is to communicate via all media. With millions of views on their videos, a Signature Model helmet (Shark SKWAL Switch Riders), gruelling social networks, and an obvious enthusiasm in living their passion, they are part of the most representative Stunt riders in Europe. And they now find themselves in an official SHARK Helmets advertising campain, for its new helmet, the SPARTAN.
Contrary to popular belief, a shooting is not necessarily a pleasure: it takes a lot of preparation, professionalism, and above all self-control. It is not uncommon to see a cameraman or a rider turning crazy after 2 hours and a half repeating the same 8 seconds scene! Two teammates were chosen for this shoot, both Jeremy ("Tchouf" and "Jeje"). The first one with his own bike, a Yamaha R6, fully prepared for the stunt, the other one with the new Yamaha MT10. Both engines are lubricated and serviced with KENNOL GRAND PRIX 10W50 4T, a track/high performances oil whose versatility adapts to very specific conditions, thanks to its additives.
Indeed, according to the commercial storyboard, several important precautions had to be taken, especially in terms of mechanics. In fact, a shooting is far from a cakewalk for motorcycles: they are off and restarted countless times, suffer falls, significant but very short high rev peaks, repetitive, all in aseriously confined environment, like these abandoned and dusty facilities. A nightmare for an engine! But with some tricks, you learn how to preserve motorcycles. And so, patience and good mood of the team!
▌
WHAT OIL FLUIDITY ALLOWS…
Jérémy "Tchouf" Mérirès, rider : "Indeed, in a confined environment, it is impossible to wait until the engine is warm and fully lubricated, because you have to limit their use to the minimum, in order not to exceed the level of CO (note: carbon monoxide ) eligible in the room! A drain at the end of each shooting day and an air filter cleaning are also essential to preserve the breathing of the machine…"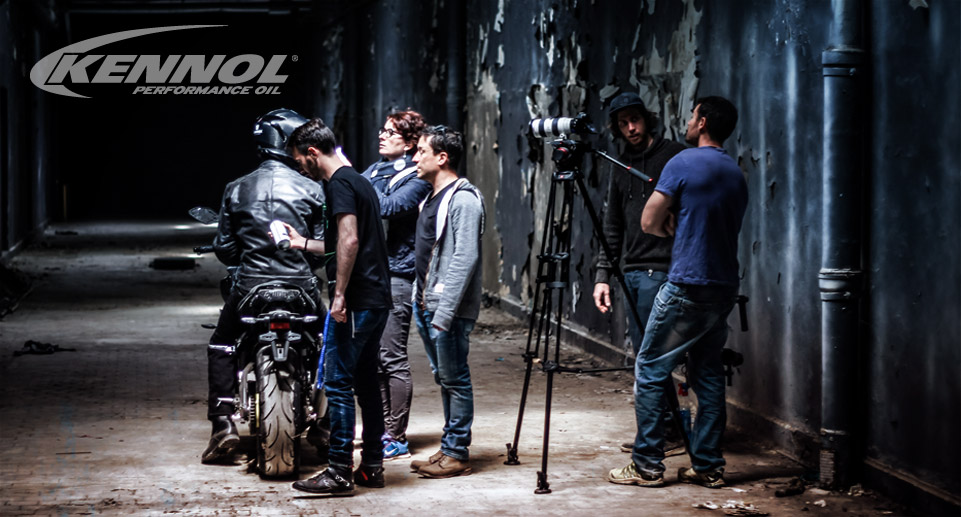 Despite the difficulty of shooting in a very demanding place (tile and linoleum floor, with a fair amount of dust on top), and very poor air conditions, the video team from MPS Prod was able to capture this delicate balance that makes the beauty of Stunt, between brutality and elegance.
Jérémy "Jeje" Souday, rider : "When Tchouf had to repeat several times the same Circles scene (note: to turn round vertically on the rear wheel) in the small courtyard, the space was so tight that he had to stall the rear wheel of the bike against a bench to hold it up, get on the machine and start then immediately lift the bike to engage in the Circle. No need to explain that excellent lubrication is crucial in this kind of situation, because it has very little time to protect the entire engine before the start of the wheelie!"
KENNOL being the lubricants partner of Switch Riders, it is with great pleasure that we will come back to other mechanical aspects inherent to this sport, in the upcoming weeks and months. Please enjoy now the full length version of the commercial, broadcast exclusively for the Grand Prix de France MOTO GP 2016 :