NEW VICTORY FOR KENNOL AT MONZA GRAND PRIX!

Only 2 weeks after the Spa-Francorchamps double-podium, Alexander ROSSI is back with another prestigious victory at famed Monza Grand Prix. The race was epic, the 2 cars took points, and more than ever Alex sounds and looks like a potential winner for the GP2 Drivers' World Championship! But the opponents are tough, talented, and we still have 3 Grand Prix before the end of the season…

I think this is a very amazing accomplishment, and it's a true testament to the good work the team delivers, race after race…
Alexander ROSSI, driver
▌
THE TEMPLE OF SPEED
Monza GP… The name by itself sounds like a legend in any racing fan's mind. Built in 1922, this mythical track is known as the fastest of the World Championship season, in average speed, either in GP2 Series or in Formula 1. And for the record, remember that Juan Pablo MONTOYA achieved the highest ever speed recorded during any F1 race ever, 372.6 km/h, in 2005, on this track! And everyone knows that if you race at very high speeds, you also have to brake very efficiently… So everything is reunited at Monza for a great show, between talented drivers not affraid at ultra-high speeds, and great cars at the top of their performances.
Today, it seems that KENNOL-sponsored cars in GP2 Series this season are willing to reunite these talents and these performances. Last Grand Prix at Spa-Francorchamps late august saw Alexander ROSSI and Jordan KING, the 2 drivers, win and take a double-podium. Alex is in 2nd position at the Drivers World Championship, and the whole team is working hard to clinch again that World Champion crown won with KENNOL in 2013.
After a soft transition in 2014, and a few encouraging podiums, Racing Engineering decided to push harder with first class goals in 2015, re-boosting the motivation of the whole crew, as well as the programs of the victorious partners, including KENNOL. And it pays, since we are in 2nd position in both World Championships, Drivers and Teams!
The week-end started badly, with many problems in practice, and in qualifying, but due to technical infrigement applied to other cars, both KENNOL-sponsored started 8th and 15th. Which is not the best starting strategy if you plan to score big points for the Championship. But talent and performance made the difference…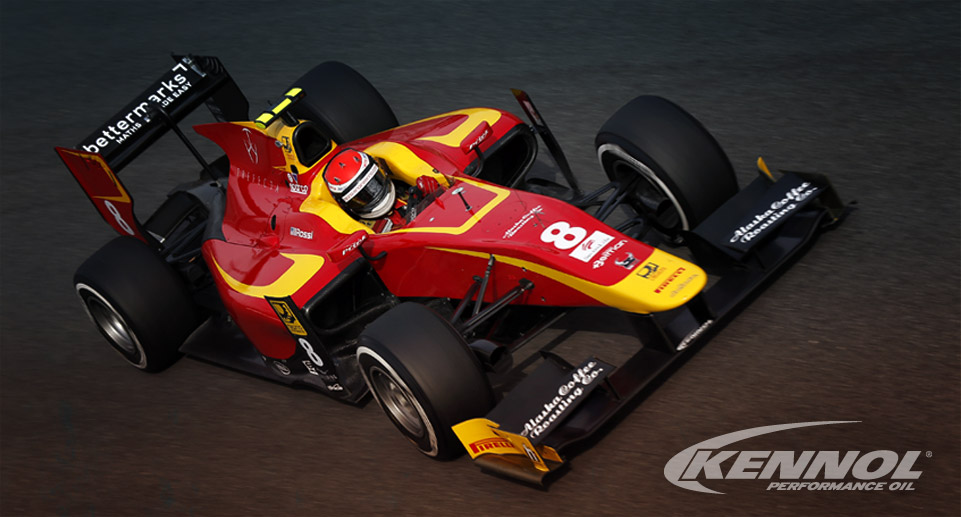 ▌
ROSSI CHARGES FROM P8 TO WIN
The Racing Engineering team opted to start both cars on the Pirelli P Zero White medium compound tyres and then change to the hard compound at the mandatory pitstop. This strategy helped Alexander ROSSI make a good start to move up the order. Another position came ROSSI's way when race leader Pierre GASLY's wheel was not attached properly at his pit stop, and when Alex LYNN and Sergey SIROTKIN came to blows at the first chicane fighting for first place, the American gained two more places.
With fresher tires, ROSSI began to catch new leader Stoffel VANDOORNE at the front before diving down the inside at the first chicane to gain first place! Despite coming under pressure from championship leader VANDOORNE in the closing stages, ROSSI was able to soak it up before crossing the line to clinch his second GP2 victory in just 13 days following his win at Spa-Francorchamps! "Oh boys, yes yes yes yes!" ROSSI cried over the radio to his team after taking the checkered flag. "Thank you! Thank you so much!"
To make the result all the more crucial to Alexander ROSSI, it came on a race weekend that Gene HAAS was attending, as speculation about his team's driver line-up for its 2016 F1 debut continues to circulate… Rossi admitted after Spa that the timing of his victory was "perfect", and this result will undoubtedly have caught the attention of HAAS as he narrows down his driver shortlist for next season.
KENNOL and Formula 1 is a young but promising story…!