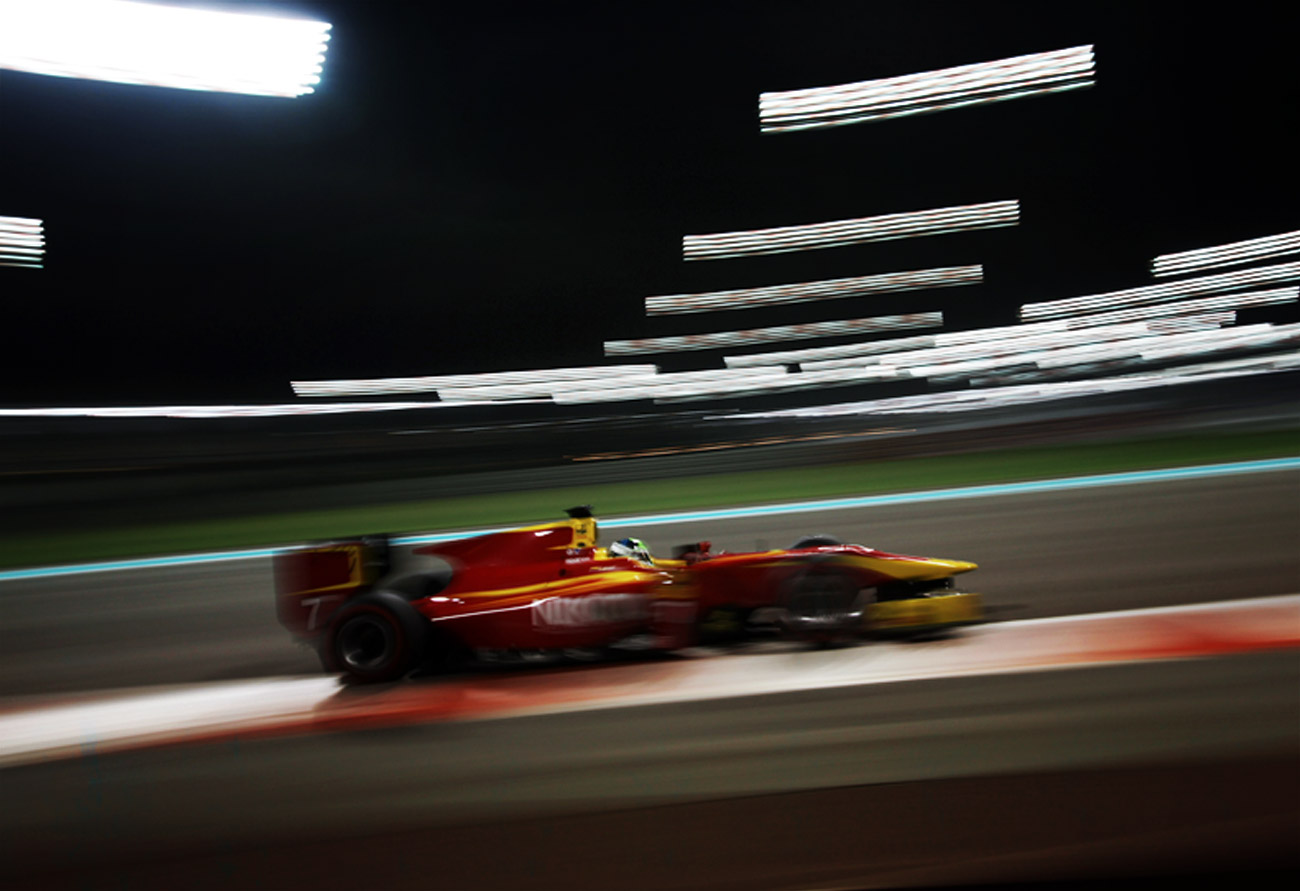 KENNOL WORLD CHAMPION IN GP2!

For its first season in the world class elite of racing, KENNOL is proud to win the title of GP2 World Champion with Fabio LEIMER! Racing Engineering also takes third place at the Teams championship, a good result for both drivers who ran through many problems all year long. The season has been tremendously thrilling, and untill this very last Grand Prix at Abu Dhabi, 3 drivers could still clinch the crown…

Very proud of all the guys for their amazing work.
Alfonso de Orléans-Borbón, R.E. President
Again a big thank you to the entire team for the work done this year, it was trully amazing!
Fabio LEIMER
▌
THE RISE OF A TRUE TALENT
The weather was very hot as the cars lined up on the grid with air and track temperatures of 35° and 45° respectively and the three fastest cars on the grid had opted to start on the medium compound Pirelli tyres but the Racing Engineering team had chosen the Super Soft tyre for Fabio Leimer in 4th place on the grid.
Fabio LEIMER: "I think we can be really happy with today. We were lucky Sam Bird stalled on the grid, which helped us a lot. We knew we had to finish at the front to take the title. The start was good and I was almost p1. It took off the pressure as I wanted to finish the race, which was quite long today. I was already sure that I could finish on the podium as I manage tyres very well. But the second safety car allowed Ericsson to close in on me on soft tyres. I knew I needed to finish p4. I would also like to thank the team for the great job this season. We never had any technical issue and the engineers always worked hard on putting the best car on track. Me and the team did a good job this year and deserve to win the championship."
▌
A TACTICAL AND TECHNICAL ACHIEVEMENT
Fabio Leimer is the 2013 GP2 champion with a total points haul of 201, ahead of Sam Bird on 191 and James Calado, whose win today leapfrogged him over Felipe Nasr for third, 157 points to 154. RUSSIAN TIME are the 2013 GP2 teams' champions in their first season in the championship with 273 points: Carlin have the same total but are vice-champions on a win count back, with Racing Engineering finishing the year third with 263 points.
Fabio Leimer: "I still can't believe it, because GP2 is the strongest category apart from Formula 1, and there are not many people who can say they've won this championship! I'm really, really happy, and I'm focussed on tomorrow because there is still another race and I want to finish on the podium."
"After qualy, I was really worrying because we had a problem on the car and weren't so quick, while Sam Bird was P2 and nearly got the 4 points. Today we had a really good start and I saw immediately that Sam stalled, and I feel really sorry for him – he's a really nice guy, one of the best guys on the track, really open, really hard but fair. I think he also deserved to win the championship, but in the end it can only go to one driver, and luckily it was me, but he is a really great guy and would have deserved it too. The 2013 championship was a really nice one, because early we had Coletti leading a lot with Nasr, and then they had some problems for a few races so me and Bird were improving and could make more and more points, and then at the end it was really close together: yesterday he was in front of me and it gave me even more pressure, and in the end we did it!"
Newly crowned World Champion adds: "Winning means a lot: last year we were quick, we had the chance to win races, but unfortunately something happened every time, and we were really unlucky! This time we weren't really sure if we wanted to come back, but we talked and said okay, but only if we can do it with Racing Engineering: for me it was the right decision because at the first two races we were strong, winning races and fighting for them, and I am really happy to win this championship with Racing Engineering because these guys work so hard. I have to thank everybody here because motor racing is a team sport, and even if you are the best driver if the team is not working well you won't win, so thank you to everyone in the team."
▌
ALREADY STARING AT THE FUTURE…
Alfonso de Orléans-Borbón, president of Racing Engineering: "What a great moment! I think Fabio and the whole team got the reward that they deserved from the hard work this season. It was not easy, the level of the drivers was very high, so we had to fight until the very last lap. One more race tomorrow, which will be business as usual and then we start preparing for 2014. Congratulations to Fabio, Julian, our engineers, mechanics and all of the people back home for helping to make this happen."
A great end to the season for the Racing Engineering team with yet another podium finish for Fabio and a battling race from Julián allowing him to get very close to the points scoring positions. Although the racing season is now over the GP2 teams will be staying in Abu Dhabi for three days of testing on the Yas Marina circuit starting on Tuesday.
Meanwhile, enjoy this exclusive video with Fabio LEIMER, Racing Engineering, and KENNOL, through this magical and epic 2013 season:
KENNOL | 2013 GP2 – First 8 GP2 week-ends