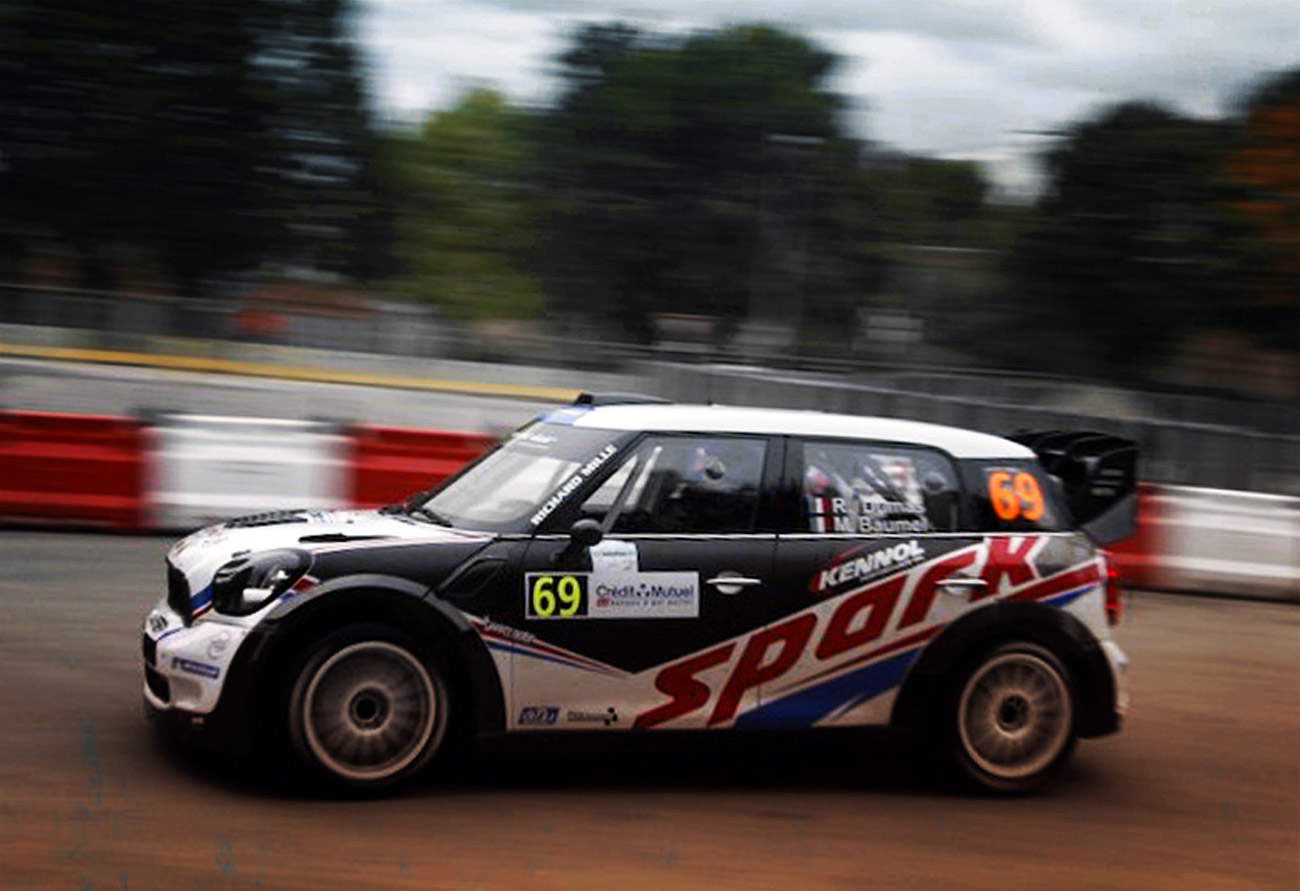 KENNOL FAST IN WRC IN FRANCE

Le Mans 24 Hours winner Romain Dumas teams with KENNOL again for making his debut in the FIA World Rally Championship in a MINI John Cooper Works WRC, after a successful and amazing experience at the 2012 Pikes Peak Hill Climb last summer. The team did great again by clinching really fast times on the early races, faster than Sebastien LOEB at some point, and finishes better than Peter SOLBERG.

I'm excited to discover all of it: the WRC in general, driving the Mini…
I want to enjoy myself, and see where I end up.
Romain DUMAS
▌
EARLY STAGES FASTER THAN LOEB!
The 34-year-old Frenchman, who will contest his home round of the FIA World Rally Championship this week, finished fifth overall at Le Mans this year as part of the Audi factory team in the awesome 3.7-litre V6 turbodiesel R18 prototype, although his finest hour came in 2010, when he won the endurance classic. Not only that but for the last three years he's been competing in the GT category of the French Rally Championship with a Porsche 911 – and he also took some time off to enter the historic Tour de Corse and the epic Pikes Peak hillclimb in America, where he finished a stunning second.
Now it's time for something completely different, as he takes the wheel of a MINI John Cooper Works WRC on Rallye de France Alsace, just like another famous racing Frenchman, Yvan Muller.
There's a lot to learn, but Monsieur Dumas isn't fazed. "I can't wait to get started as I have a real passion for rallying," he says. "I'm going to try and be as well-prepared as possible, but my basic philosophy stays the same: I want to enjoy myself, be as competitive as I possibly can, and see where I end up compared to the big names." And the fight started pretty well according to early stages times of the Frenchman!
"My times are improving but they are still not quick enough. I can gain more time in myself but I have to gain more with the set-up as well because I still need to find some better set-ups as the car continues to understeer." The highlight for Dumas so far was undoubtedly his performance on the Friday's opening test when he was faster than event leader Sebastien LOEB at the opening timing split point of the stage… Even if the absolute King of Rallye found his way back to the first place quickly enough!
"It's been a day of learning. The level of the WRC is very high. We finished the day 1.6s/km slower than Loeb, which isn't so bad, but it will tough to get any closer than that. I really should be posting similar times to Sébastien Ogier in the Skoda S2000," admitted Dumas.
After 3 days of racing and struggling with the tracks and the car, Romain DUMAS is really happy with his first experience at the highest level in rally. He tops experienced drivers such as Peter SOLBERG, former FIA WRC World Champion, and has proven to be as competitive as Yvan MULLER, who was also experiencing this week-end a different category from his, since he actually is a multiple WTCC Champion himself!